Search Used Auto Parts
Welcome to the largest online store on the internet for LKQ used car and truck parts. Our high standard network features over 30 MILLION used parts and accessories for late model import and domestic vehicles.
1.800.378.7566
Auto Parts: Original Parts (Recycled)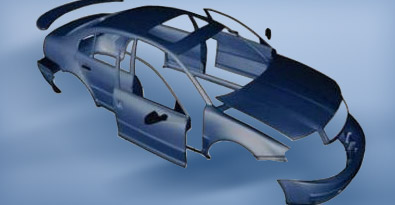 Welcome to the largest online store on the internet for LKQ used car and truck parts. Our high standard network features over 40 MILLION used parts and accessories for late model import and domestic vehicles. These used car and truck parts are the original genuine OEM parts from the vehicle. Automotix has the highest standards of quality control. If the part is not suitable to our quality standards then we do not sell it and the part gets crushed into metal. With such great volume we are able to keep the dismantling costs low and quality high, and pass the savings on to the consumer. Our store pulls the salvage parts inventory from over 430+ salvage yards from all over the United States. Since our locations are nationwide and based all over the country, we can offer FREE shipping within the continental 48 U.S. States. Automotix does not make any money from shipping costs. With OEM parts the fit, quality, and functionality is never in question. Give us a try and you will benefit greatly from the savings and experience.
Used Auto Parts Quality N' Warranty
By shopping at Automotix, you guarantee yourself the finest in quality LKQ used parts. Every auto part you order from us comes with our standard one-year warranty. The benefits of our unbeatable one-year warranty are vast, and our promise of quality doesn't stop there. Automotix also treats our customers with quality, and offer free shipping and handling on all parts ordered. This is an industry taboo, but something we consider to be standard practice
Save money on your Used Auto Parts

When ordering from Automotix, there's always money to be saved. Not only do we offer the best prices in the industry, but if you order multiple auto parts from us, you'll receive some great savings via our accumulative discount: The more you buy, the more you save.
We're positive that you'll find the best prices at Automotix. In fact, we're so confident that we run a 90-day price-match guarantee on all parts sold by Automotix. There's no hidden agenda or read-between-the-lines rhetoric to contend with - if you can find the part anywhere for less than what Automotix is charging - with our quality and warranty features - we'll make up the difference.
Shopping here and receiving an OEM used part guarantees that you'll save both time and money.
Buying Recycled Parts - Going Green

The world isn't the same as it was fifty years ago. We're on the brink of a global disaster with warming and pollution. At Automotix, we take these things into consideration and have delivered cost-effective, eco-friendly options for the many consumers out there. Automotix does its part to help the environment by recycling used parts and keeping junk scraps - rubber, metal, and plastic - out of the environment.
The United States is one of the largest producers of non-degradable scraps. As citizens, we it to ourselves to do our part to reverse this trend - by purchasing used parts from Automotix, you're not only saving money, you're helping to heal the environment.
Used Auto Parts Catalog

We offer top-of-the-line LKQ used auto parts including Engines, Transmissions, Bumpers, Headlights, Mirrors, Air Bags, Speedometers, Rims, Trunck Lids, Steering Columns, Quarter Windows, Axle Shafts, and countless other auto parts that you can easily find by browsing our thorough and detailed catalog. All in all, we're offering over 100 different part types and assemblies, in six separate categories. From Acura to Volvo, we have any and everything you're looking for. And if you can't find it in our extensive catalog, simply give us a call or slide us an email and we'll locate the part for you!
Used Parts Shipping (US and Internationally)

We ship used auto and truck parts (excluding Hoods, Catalytic Converters, Rear Axle Carriers, Back windows and Fuel Tanks) to anywhere in the US and many international locations. We offer FREE Shipping within the continental 48 US States. There are no third party fees, freight fees or mark ups. These savings are passed on to you our customer. Now you the customer can buy directly from the source of the recycled auto parts.
Shopping at Used Auto Parts Store

Used auto parts online buying has just become easier and safer. At Automotix.com simply use our drop down menus to select your part, make, model and year of your automobile. There is no easier way to find the parts that you want than with Automotix.com. Not only is the searching fast and effortless so is the rest, with fast shipping and low price guarantee your search is over and the fun can begin. You will not only find the best deal but also have it at your doorstep in record time. After finding the part you desire, checking out will make your day. While not only receiving up to 75% off your parts, the safe and secure checkout cart is fast and painless. We accept Visa, MasterCard and Discover.
Inventory